This past week, I stayed at the Conrad Hotel located in the heart of downtown Indy! It wasn't my first time there, but it was definitely the first staying, where I could relax and enjoy all it had to offer (which is pretty much everything!)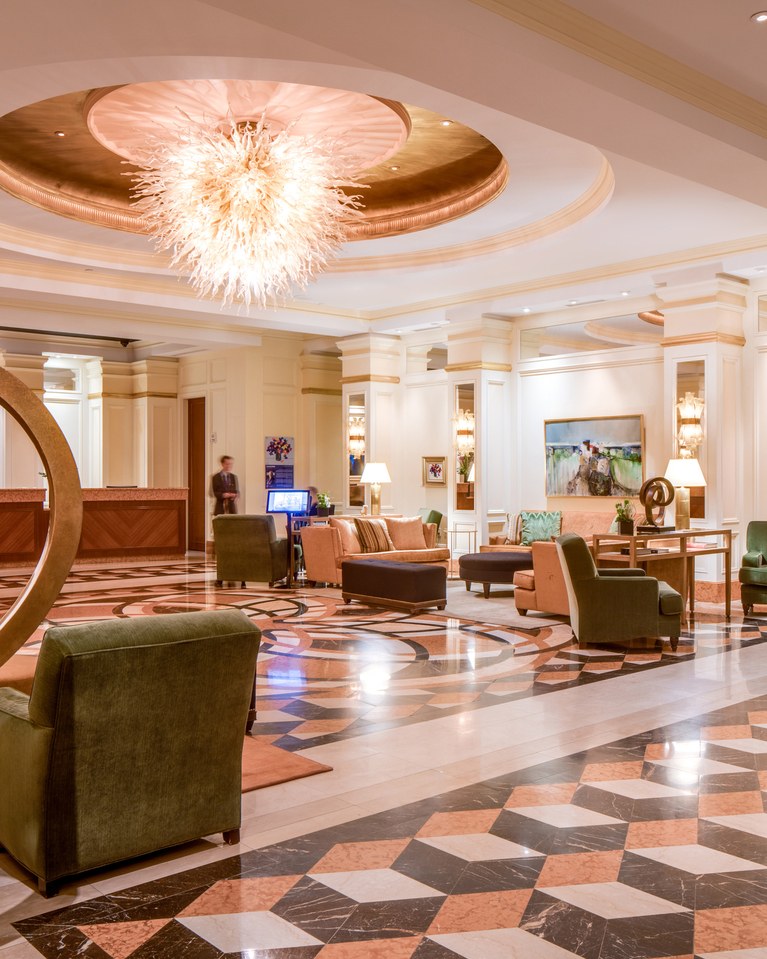 From the moment I walked in, it immediately felt luxurious. The lobby is a beautiful geometric printed marble floor with gorgeous green velvet chairs and the most spectacular chandelier. It is so stunning and every staff member is so kind! Not to mention, this hotel is a hotspot…the entire Sacramento Kings team stayed there that night for their game as well.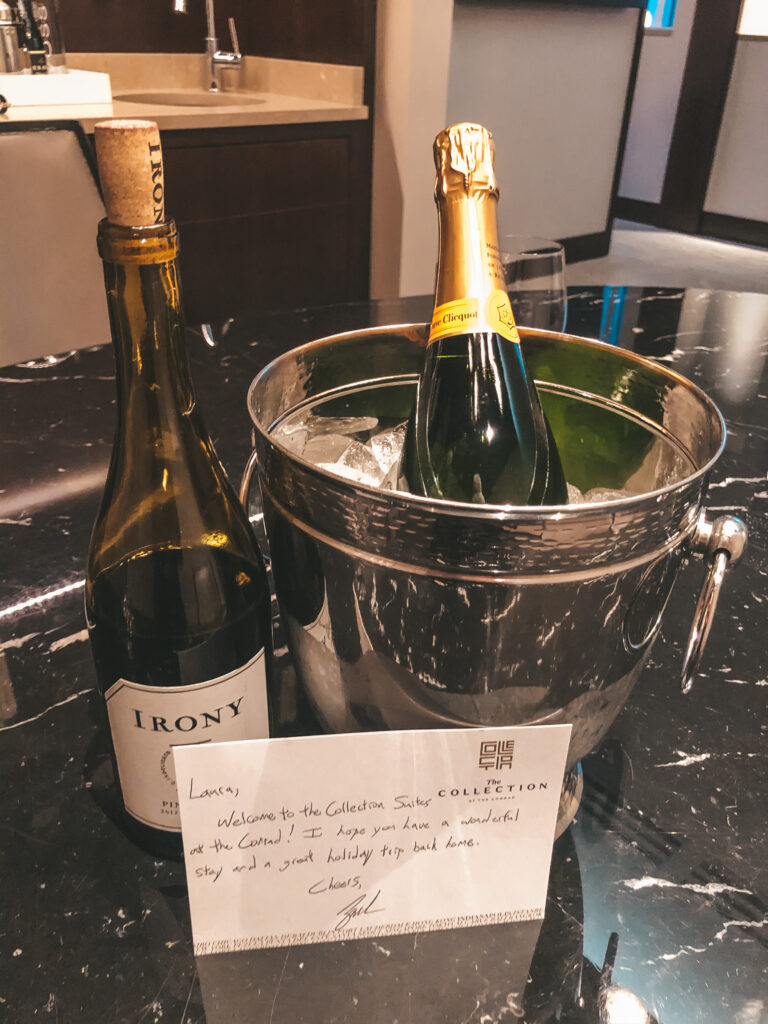 I made my way up to the room, which was one of the Collection Suites. There are various styles, but I stayed in the Modernism room and absolutely loved it! It was so clean and crisp with white and grey all around. If you've been following me for a while, you know that's literally my bedroom! When I REALLY fell in love was when I walked in the bathroom. There it was, the most beautiful bathtub with the largest orchid I've ever seen sitting right by it! I could've stayed in the entire night and been fully content!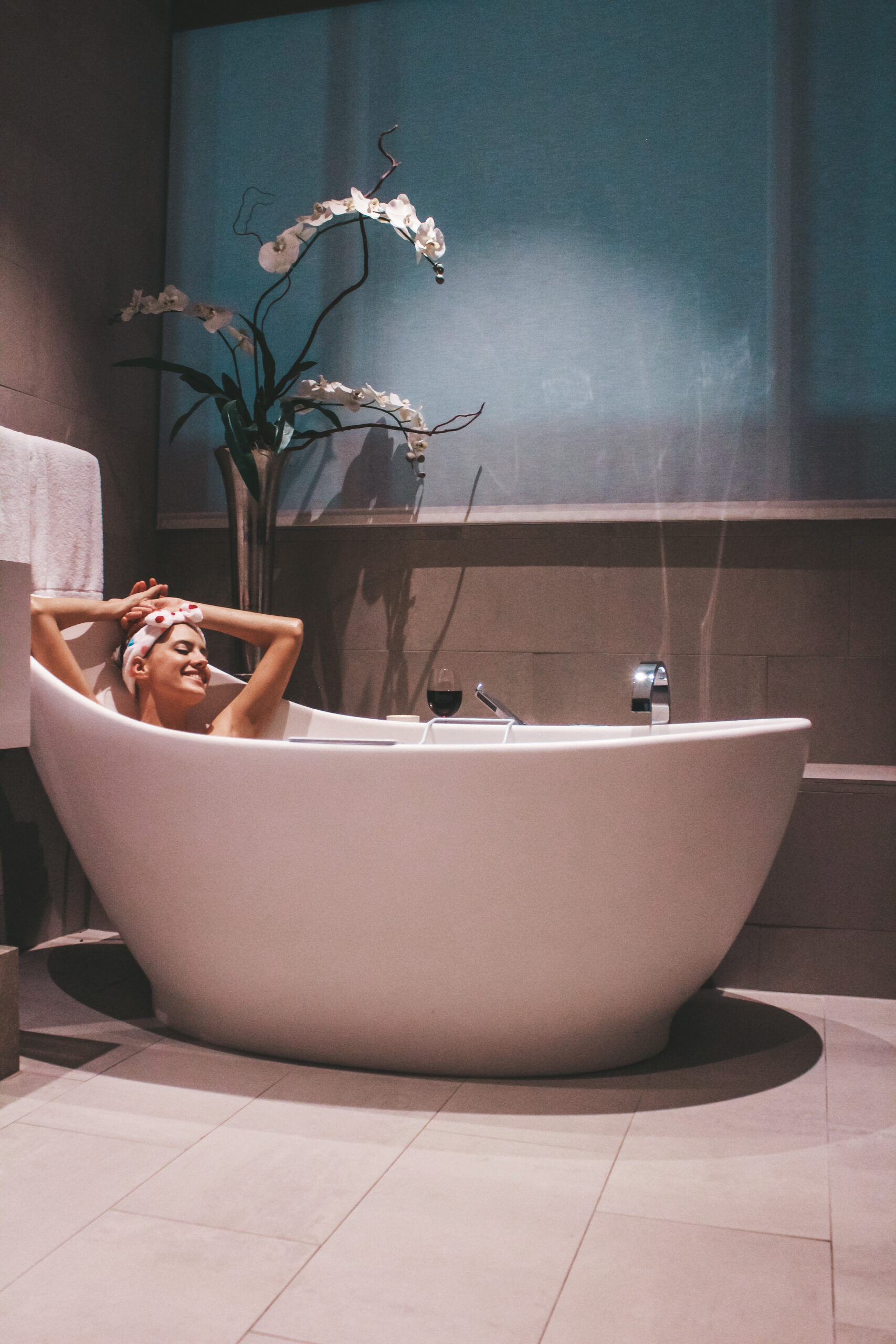 Rather than staying in, I went out and walked around the circle, which is all lit up and has carriage rides, Santa, and more! But after that, I came back to enjoy a yummy dinner at The Capital Grille with my parents. It's not technically part of the hotel, but it is just inside on the ground floor…highly recommend it! After dinner, I soaked in the tub, while watching The Devil Wears Prada with a glass of wine and then called it a night.
I woke up bright and early and went to the fitness center. Most hotels only have one or two pieces of cardio equipment and some free weights, but not the Conrad. They had multiple of each, weight machines, free weights, yoga mats, TRX bands, balls, and so much more! So I went ahead and got my workout in because I was hitting the spa afterwards just down the hallway at the Evan Todd Salon and & Spa.
I finished my workout, went into the locker rooms, where they have lockers, of course, sauna, steam room, and showers with products stocked for your use. I hit the sauna for about ten minutes then cleaned up because it was time for a manicure and massage! I was pampered is the least!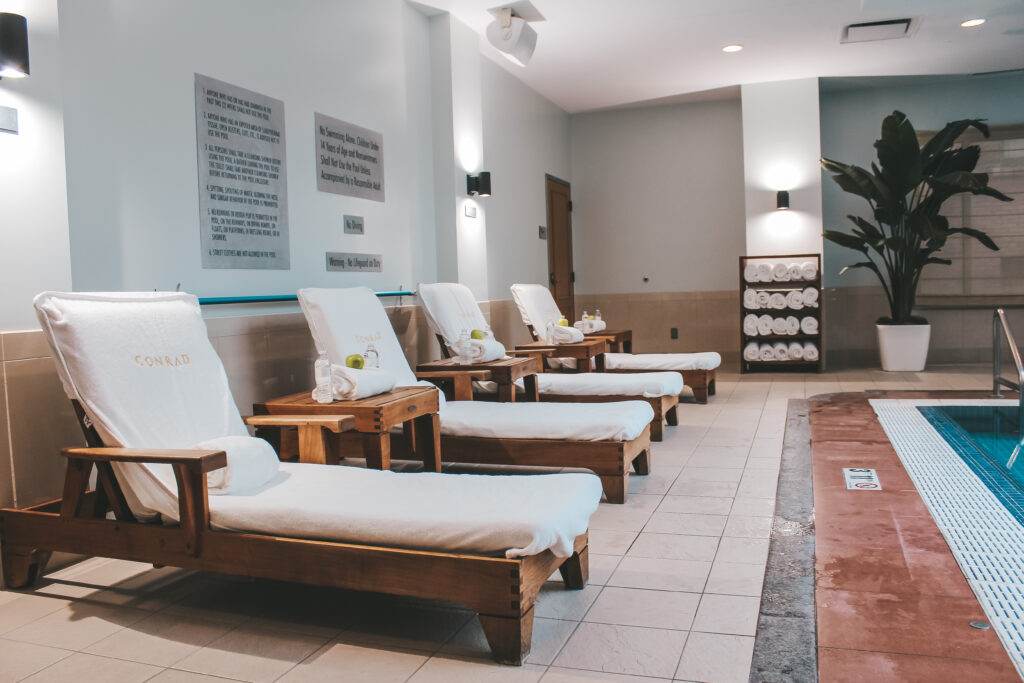 Oh, I almost forgot! While I didn't use it this time around, there is also an indoor pool and hot tub area to relax by!
I went back to the room and decided to order room service for a late breakfast because what better way is there to end a staycation? I actually set the order the night before and it was prepped and delivered right on time! It smelled so good, I climbed back into bed So fast and chowed down!
If you haven't gathered yet, I truly and genuinely love this hotel and don't have enough words to express it! So if you are ever in Indianapolis and are looking for a great hotel that's centrally located and makes you feel like a queen (or king), I highly recommend the Conrad Indianapolis!
Until next time…stay golden!
xo, Laura