Before I get going on the makeup products, here are a few things about my skin and my makeup routine:
I have combination skin overall, but my t-zone is a bit more on the oily side in summer and drier in the winter.
My skin is fairly acne-prone. Most products I use are for sensitive skin or help with oil-control and breakouts.
For every product, make sure you get the shade that matches YOUR skin! Read color descriptions closely 🙂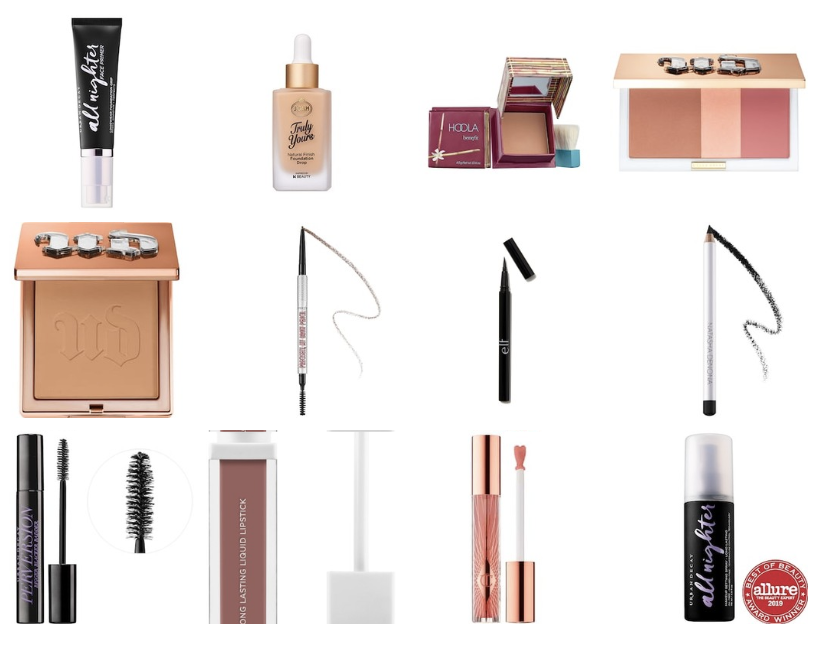 MY MAKEUP PRODUCTS
BASE
Urban Decay All Nighter Face Primer: This is a long-wearing primer that goes on sheer and leaves your skin feeling hydrated and silky smooth. It preps and smooths the look of it and helps keep your makeup in place all day.
FACE
JOAH Truly Yours Liquid Foundation: I ran out of my usual foundation and decided to pick this up at CVS really quick. I'm SO glad I did because I am honestly hooked on this stuff! I am fairly tan right now, so I picked up the shade WARM NUDE and the color is so perfect….not too orange or yellow. It's hydrating, brightening, smoothing, and accentuates a youthful glow with a flawless natural finish. Also, a little goes a very long way, so you won't be running out anytime soon! What's best? It's literally only $9!!!

Benefit Cosmetics Hoola Matte Bronzer: This is the holy grail of bronzers and I don't know if I can ever use anything else again. It's the perfect color for contouring or even just added a little color over your entire face. This is a must have!

Stay Naked Threesome Palette: This palette comes in three colors; I'm am using NAKED, which is medium bronze, soft gold, and classic pink. For this look, I blended all three colors for my blush. Then I used the highlighter on my cheekbones, under my eyes, on tip of my nose, above my upper lip, and right in the corner of my eyes and under my brow bone. Then I used the bronzer as an eyeshadow to add just a smidge of color to my eyelids. My favorite thing about this palette is that it is infused with moringa seed oil, which contains antioxidants and anti-pollution properties that help balance and protect skin.

Stay Naked 'The Fix' Powder: This is technically a powder foundation, but I use it to top off my face. I used shade 20WY (it's a fair, warm, golden undertone) to brighten up my face and really mattify everything.
EYES
Benefit Cosmetics Precisely My Brow Pencil: One of my favorite brow products to date. On one end is the pencil. It is very thin so you can actually create hair like strokes and your brows wont look painted on (no one wants that). Then the other end has the brush so you can fluff them up! My natural hair color is a darker ash blonde and the NEUTRAL BLONDE shade is a perfect match.

e.l.f. H20 Proof Eyeliner Pen: This has been my go-to eyeliner pen for a while now. It doesn't feel too 'wet' so you won't smudge it anywhere else if you blink. I also really like the tip of the pen because it's such a great shape and size and makes doing a cat eye line a piece of cake.

Natash Denona Eye Liner Pencil: Any standard eyeliner pencil will do, but this one is just so smooth and glides on easily. I use the white pencil for my waterline, so going on smoothly is super important!

Urban Decay Perversion Mascara: Literally will make it look like you're wearing fake lashes…it's that good! Love this!
LIPS
OFRA Liquid Lip: The shade I wear is called SANIBEL. It's such a perfect rosy nude shade, is a creamy texture but still matte, and once it's on, it isn't going anywhere all day!

Charlotte Tilbury Collagen Lip Bath Gloss: I topped my lip color off with this super shiny gloss in the color Rosy Glow. It's also a pink-nude color and creates a fuller looking lip.
FINISHING
All Nighter Setting Spray: This stuff is PERFECT for hot weather. This will prevent your makeup from melting off of our face.
TOOLS
Beauty Blender Sponges: I use this for foundation and concealer. I always run the sponge under hot water and squeeze it out before I use them. This helps keep product from sticking to it.

Brushes: Most of my brushes came as a set from Morphe, but they can't be found online anymore unfortunately. However, I do LOVE all of their brushes regardless. Another brand I love is Becca Cosmetics (that's where I got my contour brush…it's so soft!)
Hope you enjoyed this post! I'm going to be doing more videos on my IGTV in the future. If there's ever anything in particular you want me to try (fashion, beauty, recipes, etc) drop me a note!
Until next time…stay golden!
xo, Goldielegs